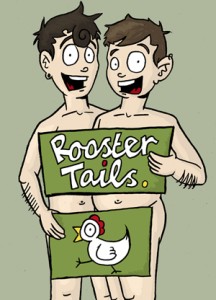 Rooster Tails is a weekly autobio comic and pet project (to keep me out of trouble), exploring the life of a simple transguy transitioning in New Zealand.
It's written by me! (Sam). A geeky, chubby transguy who spends too much time on the internet, messing about, and reading comics. It's a way to pass the time while I try and get hairier…. (that sounded way more weird than I intended it to, sorry.)
And it also quite often features Joe (my gentleman companion), who is an incredibly smart, verbose (articulate, is perhaps I nicer word) trans/political/feminist theory nerd. He also seems to be reading a lot of dragon fiction lately.
Anyway, that's enough for now – Roostertails updates Sundays… or Mondays, depending on which hemisphere you're in.
Also – here's a gratuitous picture of Joe and I… because we're perverted like that: