Posts Tagged 'I wish I actually had a shirt like this'
4 results.
So last week we had Pink Shirt Day in New Zealand. Pink Shirt day is a an international campaign aiming to show that bullying is not ok and won't be tolerated. People were encouraged to wear a pink shirt to raise awareness of bullying and show the massive amount of people who support taking a stance against bullying and believe that bullying should not be tollerated anywhere no matter what the reasons or circumstances are.
I helped organise a little promotion for it down in Dunedin – hanging out some washing across the Octagon (our city centre) – namely pink shirts. The local TV came down to say hello

- Watch it Here!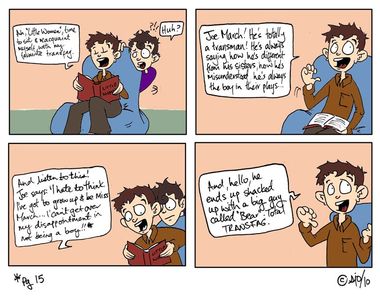 I love the idea of reinterpreting media. Whether it's books, tv, music or films there's so little representations of us, especially positive representations, that it becomes so important to find ourselves using inventive ways.