Posts Tagged 'multiplicity'
10 results.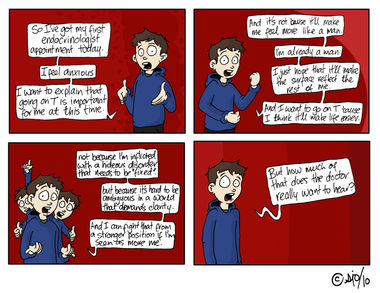 I actually ended up having a really awesome experience at the hospital; I go in there regularly to hold Joe's hand be manly with Joe when he gets his T-shot, so they recognised me when I went in. The ladies at the reception whispered my given name before asking what they'd like me to change it to on their files, and then they went in and told the Doctor that I was Sam. It was super lovely.
So I've been playing with stencils lately – mostly of film images and icons. Putting images together, and playing with the shapes that shadows and light makes. It's pretty weird when I start thinking about how much the brain makes up itself when given a few clues; blobs in certain places, and in certain shapes on a page (or a screen) are interpreted by the brain as faces.
It reminds me of something that Scott McCloud writes about, about comics; how little we actually need to make a face, like those yellow smiley faces – two well placed dots and a curve in a circle = face.
So, stencils are interesting in and of themselves, and I'm thinking about them in comparison to my comics – images of human form reduced to more simple representations, still getting across a lot of information.
These images below, are a series that I've been thinking about for a while. Marion Crane (Janet Leigh) in the shower scene in Psycho and Travis Bickle (Robert DeNiro) in Taxi Driver (ohhh, my film geek is showing). I was thinking about how often women are victims and men are perpetrators of violence – and these two images popped into my head. But I reckon they're most interesting because they're kind of complicated, within the context of the films themselves, and the careers of the films' directors (Alfred Hitchcock and Martin Scorcese ,respectively).
Oh dear, I could probably type an essay about this stuff. I think I've been spending too much time by myself. But the images look cool: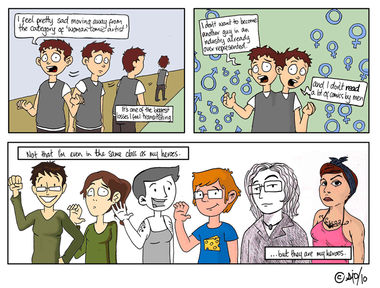 This has felt like a conversation I've been having with myself for a while now. I had heard about the Drink and Draw Like a Lady evenings in Portland and thought "woah, that'd be awesome! If I were there I'd totally go!", and then did a double take. Nope, I wouldn't go. Sad.
As I let more and more people know about where I'm at, and start to ask them to use Sam and male pronouns, I become more aware of the things that I have to give up. It's not a regretful kind of thing, just a noticing of loss.
So, yes, apologies to: Erika Moen, Dylan Meconis, Cristy C. Road, Lucy Knisley, Danielle Corsetto, and Kris Dresen.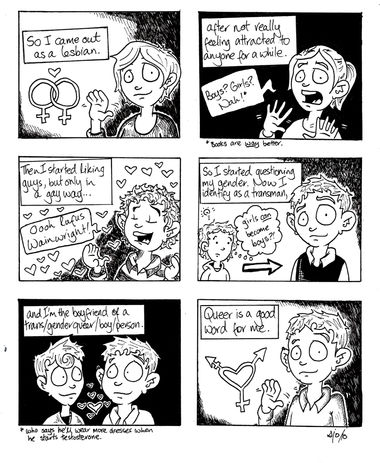 Remember that auction up in wellington I was talking about in an earlier post? Well, I did an original piece of art for it, and some prints of old stuff. Well the night ended up raising over $3000! And all my pieces got sold, woopwoo! Anyways, I thought I'd pop the original up here.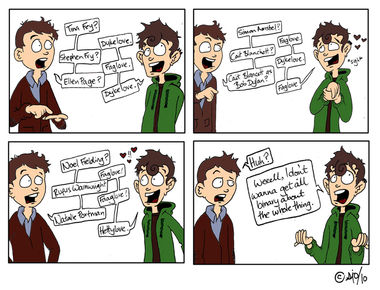 It's kind of hard to talk about sexuality when it's so anchored in gender. Both the gender of the person holding the attraction, and the gender of the person they're attracted to becomes integral. If either of those categories become unfixed or destabilised, or are, indeed, fixed in ambiguity it becomes all kinds of complicated. So, for example, if Joe identifies as a trans/genderqueer person, and I, as a transman, how do we describe our sexuality? And is it even necessary to?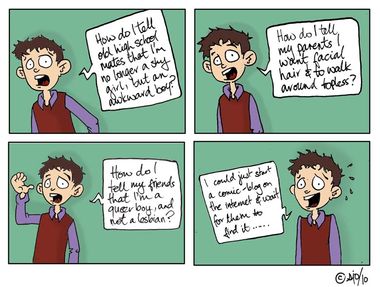 I'm still in the process of letting people know about my transness/boyness. It's a tricky, heart-wrenching little process that sometimes grinds me down. Sometimes I wish it could come as easily as someone stumbling across it, thus bypassing that painful "I've got something to tell you, and it might be a bit awkward for a while" stage. Things like the newsletter feel important to not wear myself down by worrying about people's reactions, and make the whole process feel celebratory (which it certainly is, as well as hard). I keep telling myself that they probably all ready have an idea anyway, it's hard to ignore the fact that I don't look so girly no more.
I had a great moment about a year ago, after I'd been binding for almost a year, when I was shopping with a very awesome friend of mine. We'd talked about transness in an abstract way – y'know the whole "I have a friend who's trans…" (yes, yes I did that, I thought I was being genius), introducing the topic gently, letting there be room to talk about it etc. so she was all on board with the concept. But, it can be a difficult thing to turn around to someone who's known you for a long time and say "so I'm not so much a girl", so I hadn't officially told her about me.
So this friend and I were walking down the street chatting about someone's boobs and how she wants to start a big boob brigade. She  then turns to me and says "You could join too", and then adds "except you don't have boobs anymore." It was said in such a casual, upbeat, non-accusing way – just a statement of fact. I stuttered, went red, and managed to mumble something unintelligible to us both. "You don't have to tell me" she said, "but it's totally ok". And that was that.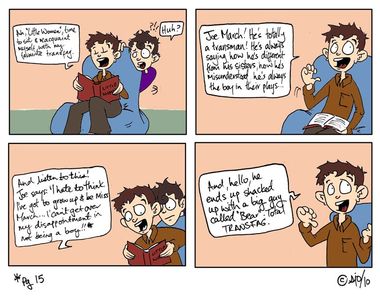 I love the idea of reinterpreting media. Whether it's books, tv, music or films there's so little representations of us, especially positive representations, that it becomes so important to find ourselves using inventive ways.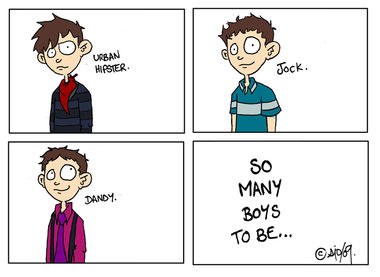 This isn't the actual comic for the week, that'll be up tomorrow, but I want to put this one up too. It didn't really turn out the way I wanted it to, but it feels like an important idea nonetheless – perhaps in time I'll be able to articulate it better.
The concept isn't meant to imply my boyness (or any trans identity) as a facade, it's something about the silliness of how we all perform our gender in our own ways (trans or not), and that that's what's read initially by other people, though obviously not the whole story. I guess I wanted to express something about gender as performance and gender as ingrained and real and more than simply what we present. And something about the way we express ourselves in multiple ways, and the multiple identities we have of ourselves in different contexts. But in four panels that's kinda hard to do, and I'm not clever enough to express it anyway.
Or maybe I just like that cute red scarf.