Posts Tagged 'Passing'
7 results.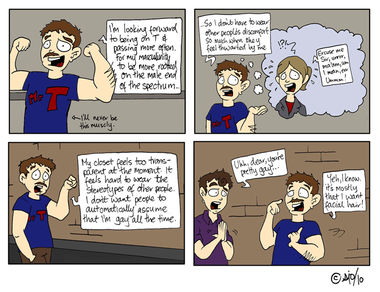 I usually have a blurb that I write in my head as I draw comics – to go alongside the strip to elaborate on what I'm trying to say. Usually, by the time I'm done with the strip, however, I've said it to myself so many times that I feel less motivated to write it down. Oh well.
I really like this video, I watched it about a month or so ago, and it has felt like it stuck in my mind, and I keep coming back to it.
[youtube=http://www.youtube.com/watch?v=2Q7IzwUa_kI&hl=en_US&fs=1&]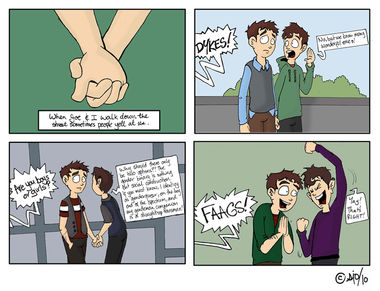 Sometimes I worry about holding Joe's hand walking down the street. I feel worried that we'll get shouted at or weird looks. So I hold back. But then I start feeling angry that I feel like that, so that makes me want to hold his hand even more, as a "I'm not going to indulge your homophobia" statement. But then I feel worried again. It usually results in my hand waving weirdly towards Joe's, and then away again, as we walk down the street. I'm sure this doesn't look weird at all, right?
The weirdest thing we've been yelled at has been "Get your hands off my sister" from a truck full of guys in the Octagon. So, yes, for future reference, "Fag" is best.
I'm off again for the weekend but thought I'd post a little post first. Joe and I are  working on a fun newsletter to hand out to the people in our little neighbourhood. We're pretty well connected to our little community down here and as Joe starts T and I begin changing my name in a wider sense, we wanted to find ways to let everyone know. We also wanted to find ways to make it fun and open so that people could laugh and be less intimidated by it, and so we, although this is hard a lot of the time too, could point out how happy being trans is.
This is an experiment, an idea, a challenge to myself, and hopefully an enjoyable read.
It's an exploration of myself; as an artist, a pakeha, a transguy, an Australian-born Kiwi, and probably 10,342 other things (at least). Ready, set, go.