Posts Tagged 'politics'
14 results.
on
September 9, 2012
at
1:42 pm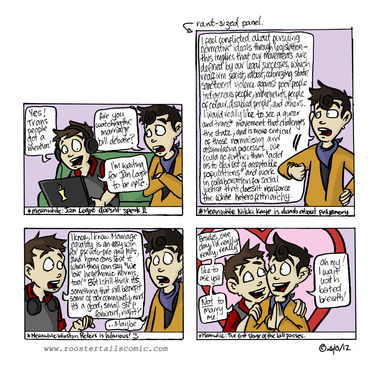 The marriage equality bill is being put forward by Lousia Wall - You can watch the first reading of it here
So last year Joe and I made up some stickers for Transgender day of Remembrance, on November 20. We are nerds so we had a maths theme about the whole thing, and wanted to have a message about breaking down the binary and encouraging tolerance celebration of diversity….
I live in a university town – in fact Dunedin's uni is the oldest in New Zealand. So on the 5th of July (during the middle of school holidays) the executive decided to hold a referendum to see if students wanted to downsize their student association (OUSA) executive.
The argument goes is that the student association is big business – millions of dollars to manage – and with 17 people on the executive it's too "dysfunctional". So they want to cut it down.
Instead of offering students a choice of models of how a downsized exec might look they picked one model and asked students to vote on it. In this model the exec gets cut from 17 members down to 10. A more "manageable" number.
BUT.
In this model we lose the Women's Rep, Pacific Island Rep, and Queer Rep, and the Maori Rep's role changes significantly. In conclusion we lose representation for already vulnerable, disenfranchised groups.
Through a series of incredibly bias posters, and manipulation of student apathy, the referendum passed. Albeit by a mere 78 votes.
This would be somewhat ok if  OUSA really was merely a business. If it was only about managing assets, putting on shows and making money, money, money.
But, it's not.
OUSA is responsible for representation, for student welfare, and for making political noise.  It's the group of young leaders that we go to: it is our voice for systemic change within the university, within the city and to the big fella's in the government; it provides us with advocacy and support spaces; it campaigns for our rights; it represents us in all our diversity.
And we've just lost the voice, representation and visibility for Women, Pacific Islanders and Queer people.
Super suck.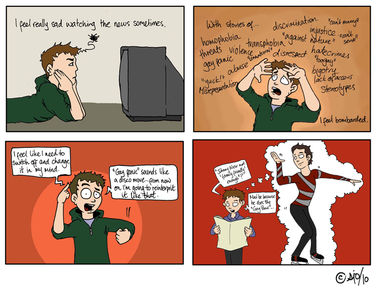 I guess this isn't just about television – in fact it's mostly about articles I read online – but I liked the idea of drawing myself in front of a TV. I've had to make a rule against reading the comment section of a lot of articles I read online because I end up feeling more hurt. The reference to Johnny Weir – ice-skater extraordinaire – came from this article from the GLAAD.org blog a while ago. Reinterpretation is definitely the way to go, makes my article reading a lot happier…
So last week we had Pink Shirt Day in New Zealand. Pink Shirt day is a an international campaign aiming to show that bullying is not ok and won't be tolerated. People were encouraged to wear a pink shirt to raise awareness of bullying and show the massive amount of people who support taking a stance against bullying and believe that bullying should not be tollerated anywhere no matter what the reasons or circumstances are.
I helped organise a little promotion for it down in Dunedin – hanging out some washing across the Octagon (our city centre) – namely pink shirts. The local TV came down to say hello

- Watch it Here!