Posts Tagged 'Telling people'
6 results.
on
September 17, 2012
at
7:34 pm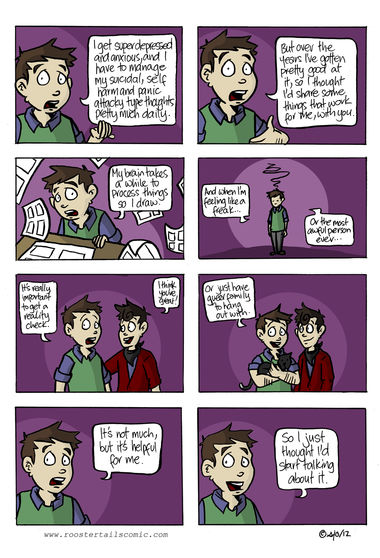 For the wonderful boys at Original Plumbing, and their "Talk About It" Campaign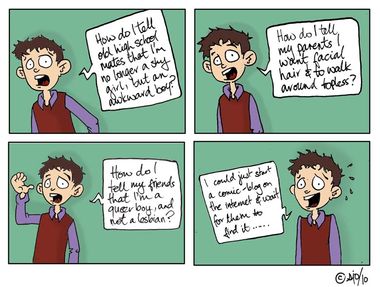 I'm still in the process of letting people know about my transness/boyness. It's a tricky, heart-wrenching little process that sometimes grinds me down. Sometimes I wish it could come as easily as someone stumbling across it, thus bypassing that painful "I've got something to tell you, and it might be a bit awkward for a while" stage. Things like the newsletter feel important to not wear myself down by worrying about people's reactions, and make the whole process feel celebratory (which it certainly is, as well as hard). I keep telling myself that they probably all ready have an idea anyway, it's hard to ignore the fact that I don't look so girly no more.
I had a great moment about a year ago, after I'd been binding for almost a year, when I was shopping with a very awesome friend of mine. We'd talked about transness in an abstract way – y'know the whole "I have a friend who's trans…" (yes, yes I did that, I thought I was being genius), introducing the topic gently, letting there be room to talk about it etc. so she was all on board with the concept. But, it can be a difficult thing to turn around to someone who's known you for a long time and say "so I'm not so much a girl", so I hadn't officially told her about me.
So this friend and I were walking down the street chatting about someone's boobs and how she wants to start a big boob brigade. She  then turns to me and says "You could join too", and then adds "except you don't have boobs anymore." It was said in such a casual, upbeat, non-accusing way – just a statement of fact. I stuttered, went red, and managed to mumble something unintelligible to us both. "You don't have to tell me" she said, "but it's totally ok". And that was that.
I'm off again for the weekend but thought I'd post a little post first. Joe and I are  working on a fun newsletter to hand out to the people in our little neighbourhood. We're pretty well connected to our little community down here and as Joe starts T and I begin changing my name in a wider sense, we wanted to find ways to let everyone know. We also wanted to find ways to make it fun and open so that people could laugh and be less intimidated by it, and so we, although this is hard a lot of the time too, could point out how happy being trans is.