Posts Tagged 'TV'
5 results.
on
October 7, 2012
at
11:48 am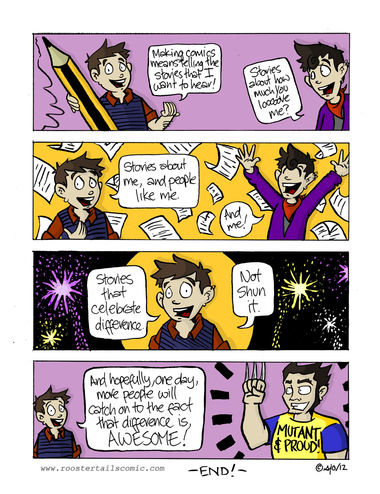 The second half of the comic I wrote for Potroast Zine's comic issue launch

Searching for jobs is a little soul destroying at times. I've been working on my CV, and working on putting together my portfolio. If anyone's interested in writing a testimonial for me I'd be totally grateful

I'm really enjoying the adam storyline on Degrassi though. I watched the original show when I was growing up, and I'm consequently obsessed with this teen drama forever now.
[youtube=http://www.youtube.com/watch?v=bSSdUv_R0xI&fs=1&hl=en_US]
Oh, and for the record, in real life – Joey is supportive of my degrassi-watching-obsession.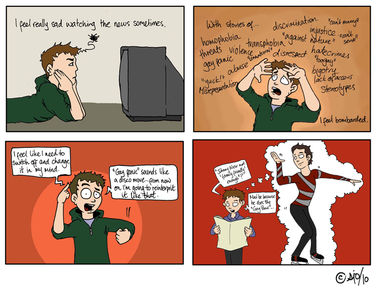 I guess this isn't just about television – in fact it's mostly about articles I read online – but I liked the idea of drawing myself in front of a TV. I've had to make a rule against reading the comment section of a lot of articles I read online because I end up feeling more hurt. The reference to Johnny Weir – ice-skater extraordinaire – came from this article from the GLAAD.org blog a while ago. Reinterpretation is definitely the way to go, makes my article reading a lot happier…
I drew this on the bus to work this morning.
Last night I dreamed I was Batman.
Batman fighting Catwoman.
Catwoman escaped in the end, but, as it was her running from me, I will take it as a win for me.
I totally remember watching the TV Batman reruns growing up, the ones with Adam West. My brothers and I would put it on after school. I remember we had a really goofy hat we'd call the "egghead hat", named after one of the villains. It was small and white and no matter who put it on they'd always look like an egghead. If there weren't enough hats to go around you'd be forced into that one, so you had to get in quick whenever we went on beach expeditions or whatnot. No-one ever wanted to be the egg head, especially because everyone else would make sure you'd never forget you were wearing it and you looked like a fool.
Anywho, that show was awesome, and so was my dream.