Posts Tagged 'Where we live'
23 results.
So remember when I told you I was gonna be in a exhibition? No, well… I am! Check out the details here!
You can see some pictures of the gallery from this post by Adrian Kinnaird at his awesome blog, From Earth's End.
Also: (!!!)

The cool folks at St. Paul's St. are putting on a panel discussion with Dylan Horrocks, Adrian Kinnaird, Sarah Laing and me! It's on next Wednesday, (April 10th) at 6pm, at the St. Paul St. Gallery in Auckland.
But, don't worry if you don't live in Auckland, 'cause they'll be recording it for a podcast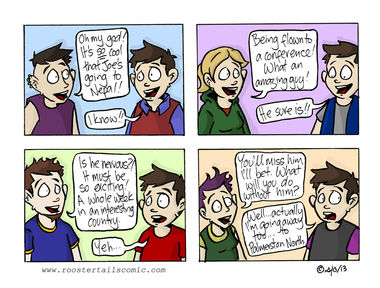 Joe is awesome, seriously…. and he has arrived safely in Nepal. Also – Nepal and Palmerston North are very far away from eachother.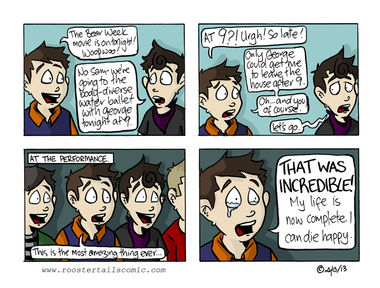 The Wet Hot Beauties can be found here: http://whbs.co.nz
I lived in Dunedin for about 8 years. It is an amazing place, and I found many people there who are now part of my Queer Family (including Joe!). Dunedin is a small town in the South Island of New Zealand, and is fairly rural.
My cool friends are now organising a Dunedin Pride! I can't stress how important it is to have a pride festival in Dunedin!! I think it'll be amazing, PLUS Joe is performing!!!
The problem is that there are just 9 days left to get their pledgeme campaign (like kickstarter, but for kiwis), and they still need about $1ooo more dollars.  SO PLEASE SHARE, DONATE, AND SHARE AGAIN!! Also their video is super cute, and filled with queer family loves of mine


So, yeh, help us out! It's such a great cause, and if you've ever lived in a small rural town and wanted it to be safer for Queer people – then this is a campaign that will directly do that for Dunedin. So that's awesome. Yeh… ok.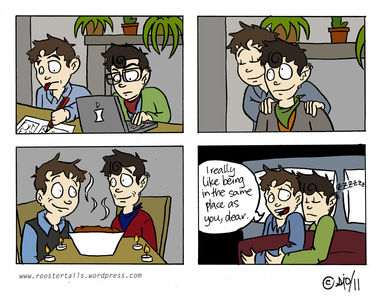 In honour of Joe's move, I have moved websites! Actually, the move to the website is due to the amazing work of Brooklynne Kennedy – she is a wonder woman!