Posts Tagged 'Wolverine'
6 results.
on
October 7, 2012
at
11:48 am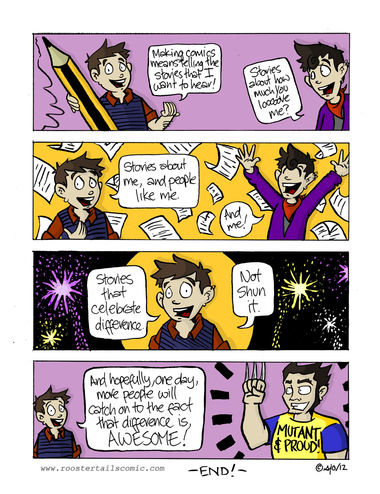 The second half of the comic I wrote for Potroast Zine's comic issue launch

April 14th is Pink Shirt Day: an international campaign against bullying. I've talked about it on this blog before, but I thought I'd raise it again since it's coming up soon. Also, I thought I'd draw a picture promoting it, because I will take any opportunity I can to draw wolverine.
Also, for people who are interested, New Zealand are doing a letter writing campaign, to let the government know we don't think that the stats on queer youth bullying are ok, and we want to see something done about it.
UPDATE: I made another poster, thanks to Jason for the request!
Update: This one's thanks to Louise!
I don't always put up the comics that I've drawn for Critic, but as this one relates to queerness I thought I'd post in on up:
It's part of Critic's Queer Issue which y'all can read here. Incidentally I also did the cover for it (Yet another Wolverine!) . which you can also check out in my gallery page.