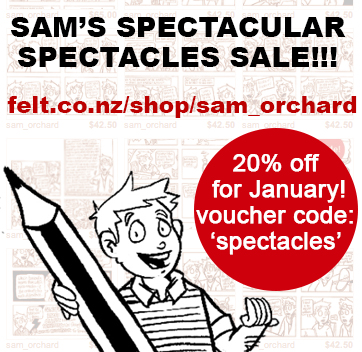 I need new glasses so I can see. Seeing will help me draw more comics.
So I've decided to hold a SPECTACULAR SPECTACLES SALE!
I'm selling a bunch of ORIGINAL HAND DRAWN ART from my Rooster Tails comic strips.
That's right, you can get your very own ONE-OF-A-KIND ORIGINAL TRANSMAN COMIC ART.
Get in fast, 'cause once they're gone, they're gone: http://felt.co.nz/shop/sam_orchard
PLUS! For the rest of January you get 20% off everything! Just click on the 'apply for voucher code' at the checkout and type in: 'spectacles'