Posts Tagged 'queer'
15 results.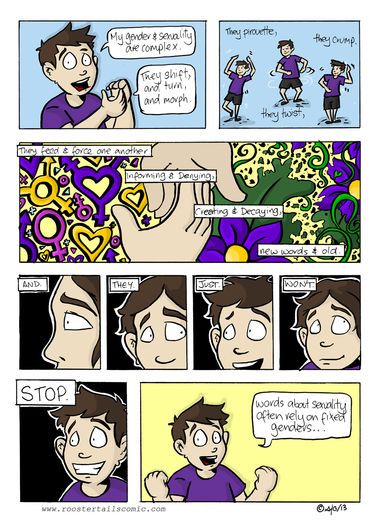 This is page one of three of my comic I drew for the Anything That Loves anthology, which you should totally get 'cause it's amazing!
Y'all! I'm super excited to be in this amazing anthology: Anything That Loves! It's a collection of comics talking about non-straight and non-gay sexualities – so bi, pan, queer, omni, wibbly-wobbly, and all the other fantastic words that we use to describe our sexualities. It's trans and genderqueer friendly too, and has one of my comics in it! And it's all thanks to the amazing Zan Christensen at Northwest Press (incredible Queer Comics Publisher!)
I can't tell you how stoked I am to have my art in the same book as amazing artists like Erika Moen, Amy Falcone (omg how cute is she in Strip Search, I just might die), Ellen Forney, Jason Thompson, Randall Kirby, and Leia Worthington (to name just a FEW OF THE AMAZING ARTISTS, IN THIS BOOK, ZOMG, SERIOUSLY!!
I feel like I've just been pushing a whole slate of kickstarters lately – but as this one is already full funded (!!), I'm just putting it out there for geeks who want to get their hands on this awesome book, and other amazing swag… but there's only 12 days left on this one so you don't have an endless amount of time…so yeh click here to see the kickstarter
Remember when I made a dorky video where I interviewed the amazing Aych?
Well – I have another video up in the Pride Series! This time I chat with Curvaceous Dee about kink, fat, polyamory, and why she is awesome…
Pride Series – Ep. 2: Curvaceous Dee from Sam_Orchard on Vimeo.
This is the second episode of my Pride Festival inspired videos 'FIVE QUICK QUESTIONS FOR MY FAVE QUEERS'.
In this episode I interview Curvaceous Dee, an amazing sex/fat/poly/kink blogger (http://www.curvaceousdee.com) you can also find them on twitter: @CurvaceousDee
(My name is Sam Orchard and I'm a queer/trans/nerd comic artist and I write comics here: www.roostertailscomic.com, you can also find me on twitter: @sam_orchard)

I've been working on a couple of changes to my Queer 101 comic for a Human Rights Commission resource. Here's my new and improved version! Plus, here's a link to the Human Rights Commission Resource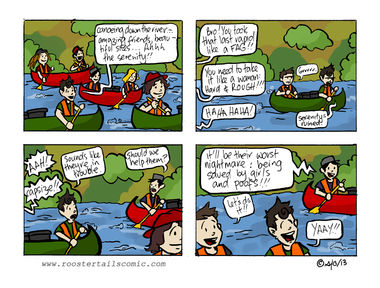 This is an exaggeration of the truth – Joe and I had capsized as well at this point. But that was harder to draw, and more shameful.