Patronise Me!
Patreon is a website to support artists to have sustainable funding by giving them a small donation each time they update their comic.
Direct from me!
If you're keen to get your hands on some of art you can totally buy it!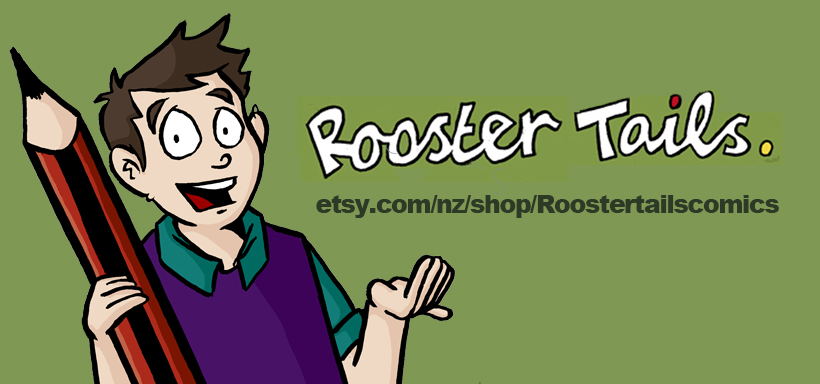 What's that?! A new store?! How do I get there?!?! Well – you CLICK RIGHT HERE
OR… type this into your browser:  https://www.etsy.com/nz/shop/Roostertailscomics
Or… you can always just donate if you're feeling generous:
Buy From Others!
Here are some books and stuff that I'm in! And links to how to buy them:
The Dunedin Comic Collective's DUD #1 and #2: I was one of the founding members of these guys, and they're AMAZING. All money goes towards printing more issues of DUD
Gender Outlaws: the Next Generation: 

An anthology put together by Kate Bornstein and S. Bear Bergman about gender awesomeness



DUDE Zine: a non-profit transmasculine educational zine by Australian and Kiwi trans guys
Funtime Comics Darkest Day: Earthquake Relief Issue: all profits go to the Red Cross Christchurch Relief
My Friend is a Superhero: I illustrated this children's book by Barbara Pike and Philip Patston
Salacious Magazine (A queer feminist sex magazine – my work has been featured in the Leather and Work issue)
Anything That Loves (From confessional, personal accounts to erotic flights of fancy to undersea identity politics, this collection of comics invites the reader to step outside of the categories and explore the wild and wonderful uncharted territory between "gay" and "straight")
Queering Fat Embodiment (I co-wrote an article in this collection called '

queering fat transmasculine embodiment', with James Burford)

Oh Joy Sex Toy Volume One (Erika Moen's review comic about 

about sex, sex toy reviews, sexuality, sex education, safer sex practices, interviews with sex industry workers AND MORE. I reviewed a harness for this volume)